ON SALE NOW!!!
Official Romsey Abbey Christmas Card
Available to buy in Romsey Abbey Gift Shop, Oasis Church Street and Romsey Visitor Centre
COMPETITION! Buy raffle tickets to win original painting by Lynne Reeves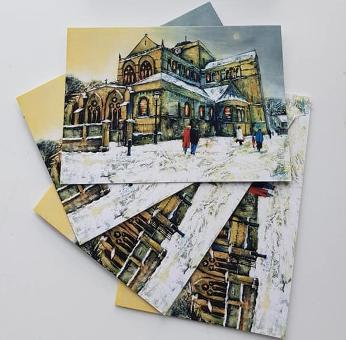 Lynne Reeves - Artist
Biography
Artist Lynne Reeves lives in Romsey with her husband and their dog, a Bearded Collie called Belle.
Studying Art at Southampton Collage of Art, followed by teacher training at Portsmouth, Lynne worked as a designer for Cresta Silks, followed by a freelance career in fashion specialising in bridal design.
Returning to painting some years ago after joining an Art class and encouraged by her tutor she become a full time painter. Lynne now works from her studio just outside Romsey. Enjoying experimenting with different types of media and techniques she incorporates paper collage and acrylic inks as a starting point to a painting, allowing her to create abstract structures. These develop into random textures, colours and shapes enabling the paintings to evolve as they progress keeping the subject loose and non representational but still with reference to the subject.
Working with a limited colour palette applying layers of acrylic paint and sometimes more collage and tissue paper, a semi abstract painting evolves form the chaos of the initial under painting. Her work is inspired by life, people, places, the light and mood of the day, the warmth of the sun, the music of the sea.
Visits to Cornwall have been especially inspirational particularly the magic of St Ives. It's deep past of artistic history, harbour, cottages, cobbled narrow streets, gallery's, working studios and of course the wonderful Light Of St Ives!
And don't forget the seagulls!
Contact Lynne at: lynnetheartist@outlook.com
Facebook: @lynnetheartist